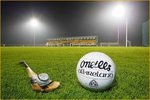 It's March- the Tipperary GAA county football league and Under-21 championship have started. It's a great time to remind you about the importance of a good warm up to prevent injuries in hurling and football. There is lots of evidence from sports science and medicine research that a well planned warm up reduces the number of injuries in a squad. So from a success and a costs point of view it's worth doing!
Gone, hopefully, are the days of lads and lassies running straight out of the dressing room and hoofing a big kick of a football over the bar. That is a recipe for a pulled hamstring or pulled muscle in the front of your thigh.. and a few weeks of missed training. For GAA hurling and football coaches, the warm up is an ideal opportunity to regularly coach injury prevention exercises to keep the squad as healthy as possible all season.
Important parts of a warm up
The pace of the GAA warm up should be graduated so that it starts easy and builds up over the duration of the warm up to get to the pace of the training session. So the first few drills of a warm up should be easy to do, and the last few drills before starting training properly should be at training intensity. There should be 'activation' exercises to wake up your reactions for demanding activities like running, landing and rapid changes of direction. It should include leg strengthening exercises, like lunges and squats. Finally, it should include agility and power exercises.
The GAA have recently launched a warm up GAA 15 that includes exercises which, when coached regularly, have been proven to reduce the number of injuries in squads. It is a really useful tool for coaches to use and incorporate into their own warm ups for their football and hurling teams.